Adored for its versatility and ability to exude timeless grace, tourmaline has been a favourite of jewellery lovers for centuries.
Sourced from locations around the world, tourmaline comes in many different varieties and shades. From deep reds and pinks to crystal clear blues and turquoises, there's a tourmaline to suit everyone's unique style. What you may not know about this exquisite gem, is that it actually gets its name from Sinhalese, the language of Sri Lanka and roughly translates to "the stone of many colours" in English.
Throughout history, tourmaline has been highly sought out because of its stunning beauty and array of colour options. While most tourmaline gems are one solid colour, certain varieties contain multiple shades. One example of this is the melon tourmaline, which is green on the outside and pink on the inside, resembling a watermelon.
One of our favourite shades here at the boutique, is pink. A wonderful way to showcase a subtle, yet eye-catching ambience, tourmaline pieces are a magnificent addition to any outfit.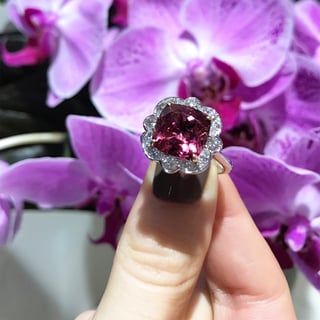 Our Tourmaline and Diamond Cocktail Ring combines the dramatic beauty of pink tourmaline with elegant round brilliant cut and marquise cut diamonds. This spectacular handcrafted ring is perfect for a special occasion, adding a pop of colour to your spring wardrobe or surprising that someone special. Reasonably priced, breathtakingly beautiful and strong enough to last for an eternity, tourmaline is a wonderful choice of gem to add to your collection this spring.
To see more of our beautiful tourmaline pieces, don't forget to follow us on
, where we share pictures daily.