While the task of selecting an engagement ring for your partner can seem daunting, the process can be smooth and
straight-forward
by taking
a certain measures
.
One of the most helpful things you can do to ensure you select the perfect ring is to find out your partner's ring size. While this may seem difficult to achieve without spoiling the surprise, there are a few ways to do this in a discreet manner. A great way to do this, is to take one of your partner's existing rings and have it measured. If possible, try and select a ring worn on their ring finger for accurate sizing.
For modern couples, a coloured ring can be a unique way to start your forever. There are an abundance of gem options when it comes to coloured engagement rings, one of our current favourites is our Tanzanite Halo Dress Ring. This stunning option features an exquisite Tanzanite with Round Brilliant Cut Diamonds, set in White Gold and Black Rhodium and is a perfect way to honour the love between you and your partner.
If you think your partner would love an elegant, classic ring, our Cushion Cut Diamond Halo Engagement Ring is a wonderful choice. Graceful and elegant, your partner will treasure this stunning piece forever.
It can be helpful to take a look at your partner's current jewellery collection to see the kind of pieces they naturally gravitate towards. Are there any recurring themes in their collection, like colour, shape, metals or styles? Remember to be discreet, so that they don't realise what you are doing and ruin the surprise.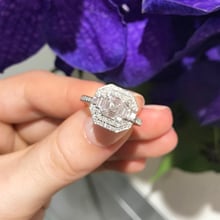 For someone who has a penchant for modern, contemporary style our Art Deco Asscher Cut Twin Halo Engagement Ring will take their breath away. Inspired by contemporary Art Deco style, this magnificent piece features a divine asscher cut diamond encased between two White Halos and finished with a Micro Pave Diamond Set Platinum Band to create a truly unique aesthetic.
When you've made an appointment to meet with your jeweller start by determining what kind of piece you might be looking for. At your first appointment, bring in notes and inspiration images to help streamline the process and narrow your choices down to a more specific selection of pieces. This will help save time and get you on the path towards finding the ideal ring for your partner.
For more advice on selecting your partner's dream engagement ring, download our Ever After guides!