Selecting an engagement ring is one of the most important decisions you'll ever make. For those looking for an engagement ring this spring, there's a few key considerations that will help you select your dream ring and expresses your individual style and personality.
There are many factors to contemplate before choosing your ring. This includes shape, colour and material.
Shape
There are an array of timelessly elegant engagement ring shapes for you to choose from. Try on and experiment with as many different ring shapes as you can - you may find yourself enamoured with something you didn't think you would like!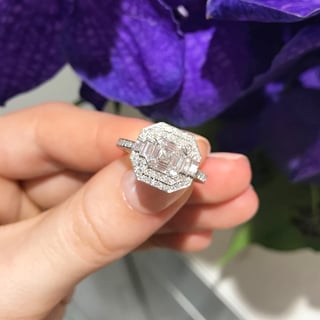 A stunning choice for a spring engagement is our Art Deco Asscher Cut Twin Halo Engagement Ring. This graceful art deco inspired ring exudes an ambience of timeless elegance and contemporary spirit. With an asscher cut diamond encased by two white halos and finished with a divine micro pave diamond set platinum band, this ring is a perfect spring inspired option.
Colour
Colour is another important factor when it comes to deciding on an engagement ring. A pop of colour can be a wonderful way to add originality and uniqueness to your engagement ring.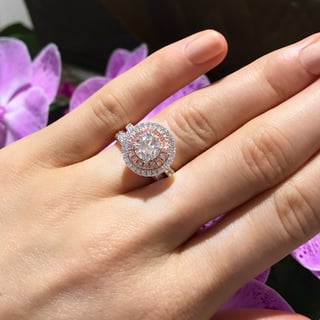 Our Brilliant Cut Argyle White and Pink Diamond Ring is an excellent way to incorporate an element of subtle colour into your engagement ring. This exquisite ring features rare Australian argyle pink diamonds, delievering an elegance and sophistication.
Metal
Lastly, it's vital to spend some time thinking about your engagement ring's band material. While traditional white or yellow gold still dominate the market, other options such as rose gold or copper gold are growing in popularity. Diamond rings paired with a rose gold band exude delicate charm with a contemporary twist, perfect for spring.
Make an appointment and one of our experts will assit you with finding your dream engagement ring!