With racing season just around the corner, it's time to start thinking about finding the perfect jewellery to complement your outfit and make a dramatic statement.
Race Day is all about expressing your personal style in a luxurious, sophisticated manner. This applies to your jewellery also. Race Day is a wonderful opportunity to showcase bright eye-catching pieces, so don't be afraid to show your theatrical side.
For this upcoming racing season, colourful cocktail rings are a wonderful way to add additional opulence to your attire. For maximum impact, choose colours opposite to each other on the colour wheel that will pop, creating a spectacular visual.
Some colourful gems to consider include tourmaline, sapphire, heliodor, tanzanite, ruby, amethyst, emerald and aquamarine. These gems will certainly add additional opulence to your look.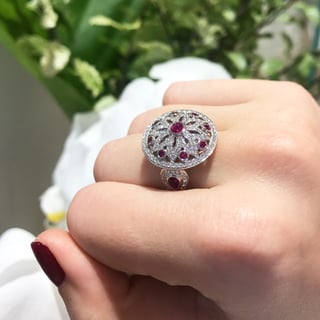 Our stunning
Ruby and Diamond Dress Ring
is a beautiful way to captivate attention. Featuring gorgeous rubies and brilliant cut diamonds, this ring is an absolute showstopper and will take your Race Day outfit to the next level.
Elegant earrings are a great way to complete your look, however, it is important to establish balance with your outfit. Therefore, if you are wearing a large hat consider smaller, more minimal earrings or if you are wearing a smaller fascinator or head piece, try something a little more daring.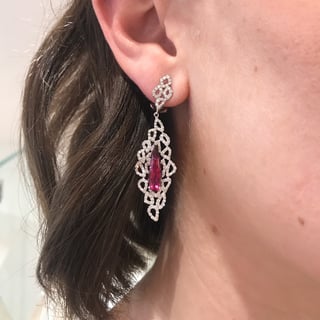 A stunning option for completing your Race Day look is our
Rubellite Tourmaline and Diamond Drop Earrings.
These breathtaking earrings feature Pear Shaped Afetto Rubellite Tourmalines and are set within Intricate 18ct White Gold Diamond detailing that has been inspired by the streets of Florence, Italy.
If you want to truly shine this racing season, make sure you select some exquisite jewellery to take your outfit to the next level. Remember to try on a few different pieces and keep your options open, you never know you may find yourself besotted with something you hadn't previously considered!
For additional inspiration, make sure you're following us on Instagram, updated daily with stunning pieces from the boutique.