Are you looking to add something eye-catching and elegant to your jewellery collection? Art Deco inspired jewellery is one of the most popular styles amongst consumers at the moment, providing a perfect blend of classic elegance and modern vibrancy.
For those currently looking to invest in an Art Deco inspired piece, there are a number of different features to look out for.
Often, Art Deco inspired pieces will be crafted from mixed metal, with White Gold being one of the most popular options. These pieces tend to be quite dramatic and eye-catching, so the simplicity of White Gold helps create balance and focus attention on the gems.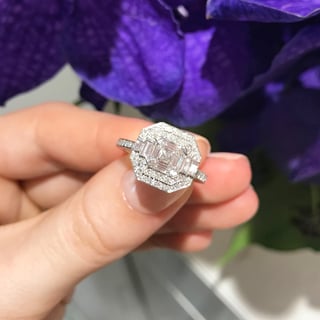 An example of this is our beautiful Art Deco Asscher Cut Twin Halo Engagement Ring, featuring a Diamond Set Platinum Band and elegant Asscher Cut Diamond. This ring is an excellent option for those who desire a timelessly beautiful engagement ring.
In terms of design, Art Deco inspired jewellery usually features geometric, square cuts with defined lines and intricate layers to create the appearance of depth. It is not uncommon for the area around the gemstone to be embellished with smaller diamonds for an additional touch of opulence. Asscher cuts, Rectangle cuts and Cluster cuts tend to be most popular.
Colour is another consideration to take into account; due to their dramatic nature, many Art Deco inspired pieces feature bright colours. A variety of gemstones are used by jewellers when creating these pieces, from sapphire and tourmaline to morganite and diamonds, along with other materials such as pearls.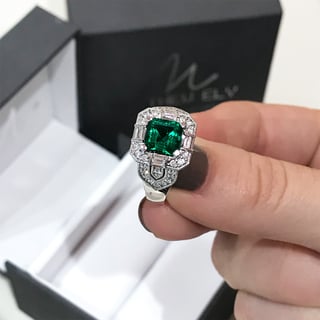 Our Art Deco Emerald Diamond Ring is a stunning option for those seeking a pop of colour, featuring a beautiful Square Emerald Cut Emerald with White Baguette and Round Diamonds set in White Gold with Art Deco Detailing.
Art Deco inspired pieces are incredibly versatile, perfect for a range of functions, from engagement rings to occasion wear. Art Deco inspired jewellery delivers sophisticated style with timeless appeal, making them perfect for modern jewellery lovers.
Follow us on social media to see more of our gorgeous pieces.