Striking and elegant, blue toned jewellery is a divine way to incorporate additional colour into your collection. There are several different blue gemstones avaliable, each with a distinct tone and sense of character.
Vivid and eye-catching, Sapphires are one of the most popular options when it comes to blue toned jewellery. The beautiful deep blue hues of sapphire sets it apart from other gems and makes it instantly recognisable. Associated with sophistication and glamour, sapphire pieces are a wonderful way to introduce an element of elegance into your jewellery collection.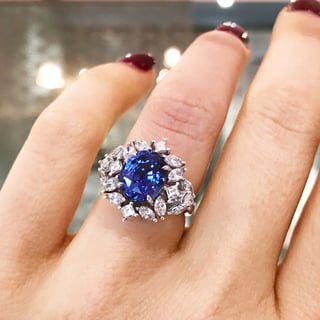 At the boutique we have several breathtaking sapphire pieces. Our Sapphire and Diamond Cluster Ring is a truly spectacular piece, expertly handcrafted with intricate details and charm. This gorgeous ring is perfect for pairing with a set of dramatic sapphire earrings, like our Diamond and Sapphire Drop Earrings. These elegant earrings are set in white gold and feature round cut diamonds and blue sapphires. With a pair like this, you'll dazzle at every occasion!
Aquamarine is another magnificent option for those seeking to add a blue toned piece to their collection this spring. Aquamarine is part of the beryl family and is similar in composition to morganite and heliodor. This precious gem's light blue colour resembles the appearance of crystal clear water. Traditionally, aquamarine has been a symbol of youthfulness, hope, wellness and eternal love.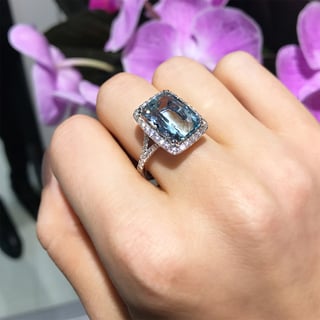 Our favourite aquamarine piece at the moment is our Aquamarine and Diamond Halo Ring. The combination of aquamarine and white gold with a diamond halo creates a simple, stunning aesthetic and exudes modern luxe. The cool tones of aquamarine make it perfect for pairing with other gem colours, so let your imagination run wild.
Remember to stay up to date with all the newest pieces here at the boutique by following us on
and
!