Valued for their exquisite beauty and ability to exude timeless grace, Argyle Pink Diamonds, found only in Australia are among the most sought after gemstones in the world.
These stunning diamonds, ethically sourced from mines in Western Australia are becoming increasingly rare due to a dwindling supply, with mines estimating that deposits of this highly coveted diamond are set to reach exhaustion within the next decade.
Argyle Pink Diamonds experienced a huge surge in popularity in 1947 when the Queen Elizabeth III of England received a pink diamond as a wedding gift. Along with this, Princess Mary of Denmark who is originally from Australia, is an advocate of these precious gems and wears them frequently, further increasing popularity on the international stage.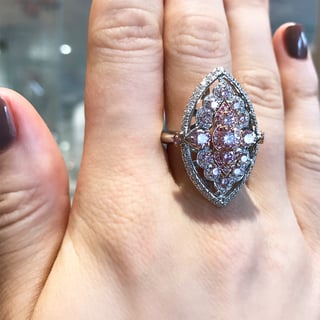 For those looking to add an Argyle Pink Diamond piece to their collection, our Chantilly Diamond Ring is a truly spectacular option that will instantly captivate attention.
This intricately designed handcrafted piece features Round Brilliant Cut Argyle Pink Diamonds and Round Brilliant Cut Diamonds, handcrafted with Rose and White Gold. This ring is a joy to wear, especially considering that you will have one of the world's rarest gems on your hand!
Argyle Pink Diamonds create a striking aesthetic when paired with white diamonds, putting emphasis on the charming hue of pink. Subtle, yet sophisticated, these pieces are the perfect way to showcase an immaculate sense of timeless beauty.
Want to see more of our exquisite Argyle Pink Diamond Pieces? Find new pieces on our Instagram daily!