Art Deco inspired jewellery is one of our favourite styles, prized by modern consumers for its unique beauty and timeless appeal.
The era known as Art Deco takes its name from an exhibition held in Paris in 1925. This movement created a major shift in style across architecture, clothing and jewellery, resulting in the emergence of more contemporary style with an emphasis on geometric patterns and bold, dramatic details.
Geometric and square shapes with dramatic details and bright colours quickly grew in popularity during this era. Larger rings decorated with gemstones became highly sought out around the time of World War I. Women desired eye-catching pieces with large diamonds and gems set on hinged plaques to set them apart and add individuality to their outfits.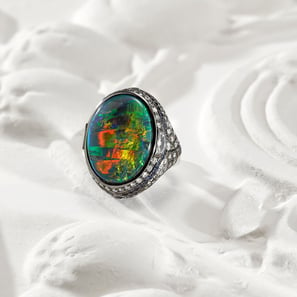 We enjoy incorporating some of these elements into our jewellery, to create striking, one of a kind pieces like our Lightning Ridge Black Opal, Blue Sapphire and Diamond Ring, which features Art Deco inspirations.
Art Deco inspired jewellery remains a popular choice amongst modern consumers due to their striking, yet timelessly elegant appearance. Modern Art Deco jewellery combines elements of today's style with those of the Art Deco era, to create unique, show-stopping pieces that transcend time. The term "cubism" is often used to describe this jewellery because of the angles and geometric lines typically seen in pieces from this era.
The impact of the Art Deco movement can still be clearly seen in modern jewellery. Our stunning Asscher Cut Twin Halo Engagement Ring features an Art Deco inspired design with an Asscher Cut diamond encased between two Halos and a diamond set platinum band.
If you'd like to learn more about Art Deco inspired jewellery or see our collection, please contact the boutique to arrange an appointment.