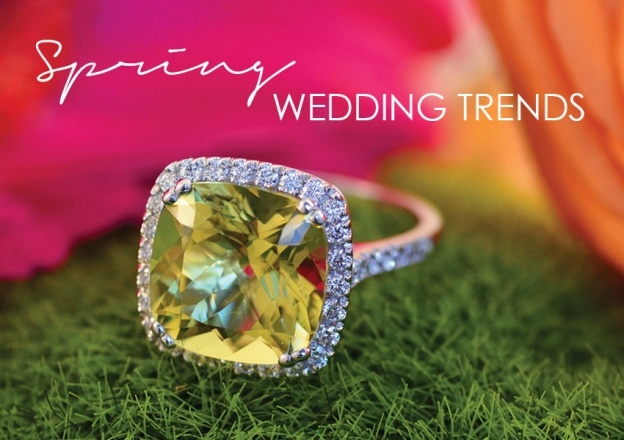 Spring is in the air and so is love! Spring is the most popular season for weddings and it's an especially exciting time in the boutique with so many of our clients tying the knot.
This spring season there are a number of trends that we love:
Bold bouquets
With so many blooms in season, your options for flowers are endless in spring. Bright, bold and contrasting flowers are very on trend with bright tulips, coloured roses and sunflowers the perfect way to make a statement. Bright bouquets for brides and bridesmaids are beautiful when contrasted with pale hues and whites.
Garden settings
An outdoor wedding has spring written all over it. Tea lights, fresh blooms, glass enclosed candles and petal-strewn tables create an enchanted garden theme and late afternoon garden weddings are becoming extremely popular.
Coloured rings
Many brides are opting for stones other than diamonds for their engagement rings and wedding jewellery. Coloured stones are beautiful and offer the opportunity to show a bit more personality than a standard diamond ring. With sapphires, rubies and morganite all being used for engagement rings, the spring season is all about making a statement.
Brunch weddings
Rather than lunch or dinner, many brides and grooms are serving their wedding guests brunch after an early morning ceremony. Early morning light makes for a beautiful setting and even better photos, so if pancakes sound appealing, you might want to jump on-board with this growing trend.