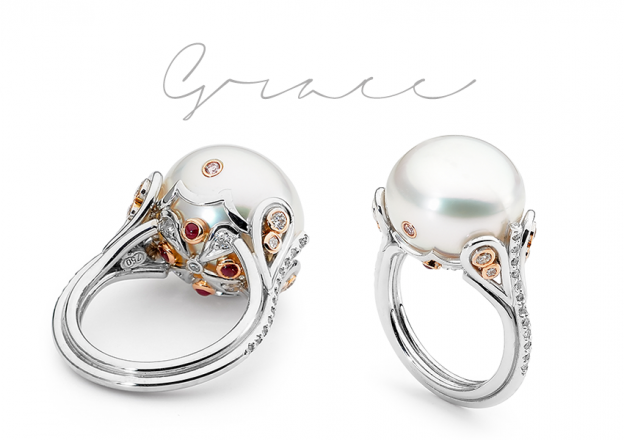 Grace was created as a competition piece a few years ago, and I'm proud to say that she won her category for pearl design.
During the conceptual stage of design I knew that I wanted to create a pearl piece suitable for the young at heart. Pearls are synonimous with a more mature lady's collection of jewellery, something you may find in your grandmother's jewellery box, but I wanted to buck the trend a little and open these incredible natural gems up to a younger crowd. The idea was to make something modern, and create a piece that could be worn various ways and appreciated from different angles.
Grace can be worn as a ring, or have a long chain looped through the centre to be worn as a pendant, where her intricate detail really shines. The slightly button shaped south sea pearl sourced for this piece has pink overtones and to compliment this I selected delicate cabachon rubies, and pink diamonds. I love working with rose and white gold together and these gems gave me that opportunity. I like to think that Grace's style is adventurous yet classic.